Feature Story
Ethernet-APL: Ready for action
페이지 정보
작성자
최고관리자
댓글
0건
조회
113회
작성일

22-04-15 21:15
본문
Good things are worth the wait – not least, the development of Ethernet technologies in the process industry. Towards the end of the 80s, R. STAHL had already started working on its first Remote I/O projects. Since around 2009, solutions that use Ethernet and Remote I/O in hazardous areas have been available, such as fibre optics for hazardous areas. Now, Ethernet-APL is enabling access right up to field devices – without Remote I/O – and as an internationally standardised 2-wire solution for the first time. The development and market readiness of Ethernet-APL are being driven by the collaborative work of twelve manufacturers and the leading Specification Development Organizations(SDO's) FieldComm Group(FCG), ODVA, OPC Foundation and Profibus International(PI). As one of the founding members of the Ethernet-APL project, R. STAHL has been part of the process from the very beginning, particularly when it comes to explosion protection. "We have brought our expertise to the table when developing the technical specifications, ensuring that user benefits and practicality are the top priorities during development," explains André Fritsch, Senior Product Manager for Remote I/O Fieldbus at R. STAHL.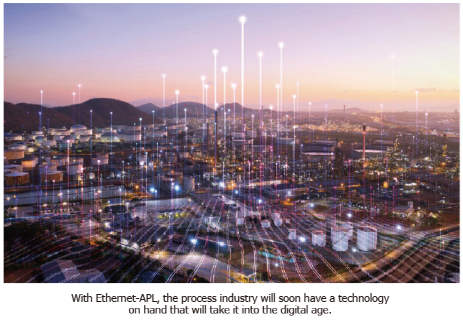 Standards keep the world turning
How does this solution differ from previous ones? Ethernet-APL enables continuous IP communication from the field level to the control system, as well as horizontal and vertical networking across entire systems. This technology is based on the IEEE-802.3cg standard, can bridge distances of up to 1000m at 10 Mbit/s, and simultaneously provides a supply for the field devices – an indispensable advantage in the extensive systems used in the process industry.
Additionally, field devices can be operated with the intrinsic safety type of protection, which is preferred in this industry. In the APL project, among other things, the intrinsically safe extension for use in potentially explosive atmospheres is being developed. In line with the Ex i concept for fieldbuses, FISCO(fieldbus intrinsically safe concept), the 2-WISE concept(IEC TS 60079-47:2021 Equipment protection by 2-wire intrinsically safe Ethernet concept(2-WISE)) has been developed so that Ethernet devices from different manufacturers can be interconnected easily and without the need for intrinsic safety verification calculations. For devices that require higher bandwidths and more power, work on 100BASE-TX-IS is also being undertaken in parallel. The Intrinsically Safe Ethernet Working Group has set itself the task of developing an interoperable, Ex i version of the 100BASE-TX Ethernet that is already available currently(4-wire with a data rate of up to 100 Mbit/s).
However, the journey taken to reach the specification step was not always smooth. "It was clear to everyone involved that a concept of this kind would only work if it resulted in the creation of an international standard," Fritsch clarifies.
This required close, concentrated collaboration. At the IEC level, for instance, R. STAHL was actively involved in the development of the new Ex i specification – IEC TS 60069-47 "Equipment protection by 2-wire intrinsically safe ethernet concept(2-WISE)" R. STAHL also made significant contributions to the explosion protection-related content in the engineering guide.
"Furthermore, it is our job to develop safe products for installation technology in the field, such as power switches and the Ethernet-APL field switches suitable for Zone 1," adds Fritsch.



Advantages for all
Everyone involved benefits from Ethernet-APL – users and operators, manufacturers of control systems and field devices, and planners. For instance, it enables users and operators to introduce new concepts such as NAMUR Open Architecture(NOA) and the Open Process Automation Standard(O-PAS™). Diagnostic and asset management data can now be transmitted over large distances in real time.
For control system suppliers, the design of modern automation structures is also much simpler with Ethernet-APL. This enables new, high-performance concepts for process control, system diagnostics and plant asset management to be created. What's more, device manufacturers can design additional features and applications with bandwidths of 10 Mbit/s, offering additional customer benefits. A variety of tools and services are already available as standard as IEEE-compliant Ethernet.
Finally, a consistent Ethernet infrastructure also simplifies planning, commissioning and troubleshooting for the EPC and system integrator.
Changes and modifications can be made significantly more quickly and flexibly than in most current, inhomogeneous field installations.

Two branches of technology
Ethernet-APL supports a range of topologies for use in the process industry, such as the star topology that is familiar in Ethernet technology, as well as the trunk/spur architecture that is common in fieldbus installations. As collaborative partners, R. STAHL and Softing will soon unveil products and solutions in the form of Ethernet-APL power switches and field switches, which can be used in Zones 1 and 2 with intrinsically safe 2-WISE field device connections for Zone 0.
The 4-wire field switch was developed in order to convert normal Ethernet to Ethernet-APL. This field switch, which is based on the 2-WISE concept, is now making good progress and is expected to pass its performance and conformity tests in the second quarter of 2022. "We are currently performing extensive interoperability tests to ensure that the first devices will be sent for certification, for instance with respect to Profinet and explosion protection, in the third quarter. End users are already planning initial projects involving Ethernet-APL for Zones 1 and 2 over the course of the next year," explains Fritsch.
Developments relating to the trunk/spur topology have been somewhat more challenging. When installing Ethernet-APL using the trunk/spur topology, a power switch supplies the network with approximately 90 W and is responsible for conversion from 4-wire Ethernet to 2-wire technology. This is where the field switches are connected. They are supplied via the trunk and provide the remaining available galvanically isolated energy to the field devices with the intrinsically safe type of protection. Each trunk, whether power switch to field switch or power switch to power switch, can be up to 1000 m long, while the spurs can be a maximum of 200 m long. The details have proven to be a challenge, as Fritsch describes: "The power switch is not quite ready yet, as it is an incredibly complex piece of technology. This is less due to explosion protection-related challenges, but rather because a number of network-specific functions need to be incorporated. These include, for instance, Profinet diagnostics, topology detection, and much more."

Diagnostics made simpler
In general, the issue of diagnostics proved to be more complicated than originally thought. "In the past, all you needed was a multimeter – now, individual diagnostic routines are required," says Fritsch. "Using the typical 4 to 20mA installation, operators can receive a maximum of two diagnostic messages – either everything is working or something is wrong. Using Ethernet-APL, users can now learn precisely what has gone wrong and why, including troubleshooting recommendations." For users, the primary benefits are twofold – as well as improved analysis options, they also have new opportunities to perform remote diagnostics.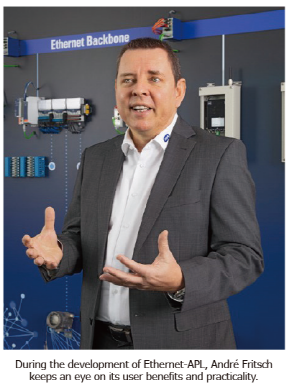 Ready for the tasks of the future
There are, of course, some challenges that remain to be mastered, such as implementation and certification by local and national certification authorities, some e.g. in China and others in the USA, who take a slightly different approach to explosion protection. This can lead to delays, as Fritsch illustrates using a prior example: "Optically inherently safe technology has been on the market for 20 years, but for a long time there was no authority in South Korea that offered corresponding certification. This meant that this technology was launched there much later." In Fritsch's opinion, there are still unanswered questions on the topics of integrating non-Ethernet-APL devices and limits by cable lengths and temperatures. In this respect, tools for calculating non-linear connections are required.
But perhaps the most important thing to bear in mind is that technology thrives on variety. No digital systems can be built using an Ethernet infrastructure alone. This requires suitable field devices and suitable communication protocols, among other elements. "The Ethernet-APL project has succeeded for the first time in bringing manufacturers and standardisation organisations together. Now, even more manufacturers need to get involved in development. You can't build a system with just twelve manufacturers," urges Fritsch. Users
should definitely get to grips with this technology. After all, they need to learn about two almost brand new technologies, as well as how to work with digital communication protocols and Ethernet technologies. "For instance, anyone who is getting started with Profibus PA now will be able to convert to Ethernet-APL in a few years without having to do any additional work. This technology gives rise to flexibility. Modbus TCP applications can also be used to make the jump to Ethernet-APL, as the same network is used," explains Fritsch, describing another possible path. In his opinion, the important thing is that users decide on a structure in advance – either a star topology or trunk/spur technology.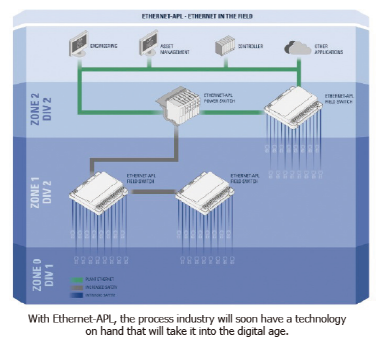 Prospects
Due to increasing volumes of process data that needs to be transferred, sometimes over significant distances, Ethernet-APL is essential for future-proof process automation. The key difference compared to earlier technological approaches is that many companies are ready and keen to engage with this technology. "At the moment, everyone – manufacturers and operators – is working on the same topic," confirms Fritsch. "However, new technologies are always snapshots. To develop new, successful solutions, you need to work with them," Fritsch says, addressing users and manufacturers encouragingly. In conclusion, he reminds us of the alternative – continuing to work with outdated 4 to 20 mA technology.
■ Contact: R. STAHL CO. LTD.
www.stahl.co.kr / +82-2489-2733