Business News
Improved technologies support UN Sustainability Goals
페이지 정보
작성자
최고관리자
댓글
0건
조회
103회
작성일

22-05-16 16:04
본문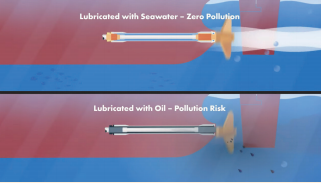 A new video highlighting how improved technology can be used to help the global shipping industry meet its ocean sustainability targets has been produced by Canada's Thordon Bearings.
The short video aims to encourage the shipping industry to adopt, 'New Technologies for Greener Shipping' – the IMO's World Maritime theme for 2022 – as a way of addressing wide reaching concerns over the sector's environmental footprint.
Focusing on SDG#14 - Life Below Water and eliminating ship source pollution – one of the United Nations' 17 Sustainable Development Goals(SDG) – the short video helps the industry better understand why "there is no place for the oil lubricated propeller shaft in the 21st century."
As part of a global campaign to address emissions below the waterline, Carter aims to use the animated short to raise awareness of a proven technology that eliminates operational and accidental oil emissions from sealed propeller shaft line systems with ship owners and the maritime community in the U.S.A., Canada, the European Union and other seafaring nations around the world. 
While there is no doubt that the use of an open seawater lubricated propeller shaft bearing system can permanently eliminate operational and accidental oil emissions from a vessel's propulsion system, Thordon's polymer bearing technology also has a variety of other ship owner and marine environmental benefits.
Carter, who will also continue to lead Thordon's marketing and customer service teams, adds: "We have determined that a ship with a seawater lubricated polymer stern tube bearing will result in reduced fuel consumption and emissions as less propulsive energy is used. We are close to concluding research and will publish a paper on our findings in the coming months.
The video will also be broadcast during this year's Nor-Shipping, the biennial trade fair which takes place in Lillestrøm, Norway, between 4th and 7th of April. Thordon representatives will be available in Hall B at Booth #B05-29 to guide visitors through all the benefits of a seawater lubricated propeller shaft system.