Issue
Endurance Discovery Live Global Broadcast enabled by Inmarsat Fleet Xp…
페이지 정보
작성자
최고관리자
댓글
0건
조회
103회
작성일

22-05-16 16:15
본문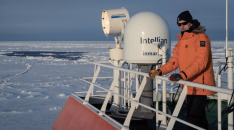 Fleet Xpress from Inmarsat, the world leader in global, mobile satellite communications, provided a high-speed connectivity solution to enable History Hit to broadcast the discovery of Antarctic explorer Sir Ernest Shackleton's lost ship, Endurance, from the Southern Ocean. The legendary vessel was found on 5 March 2022 – the 100th anniversary of Shackleton's funeral – 3,008 metres below the icy surface of the Weddell Sea, bringing the Falklands Heritage Maritime Trust's Endurance22 expedition to a successful conclusion.
History Hit is the Subscription Video on Demand(SVOD) and content platform co-founded by historian Dan Snow with award-winning digital content agency and media network Little Dot Studios(an All3Media company).
Images captured from the shipwreck by autonomous underwater vessels(AUVs) launched from South African icebreaker Agulhas II were shared online and with global media via Inmarsat's Fleet Xpress service. Offering high bandwidth and data speeds, the award-winning maritime satellite communications network allowed History Hit and Little Dot Studios to live-stream the discovery with excellent picture quality despite the significant data demands, the remote location and an elevation angle of just four degrees.
With Agulhas II's existing onboard communications system reserved for general vessel requirements, Inmarsat provided the onboard crew with a self-contained, standalone solution for the specific purpose of relaying images and video captured by the AUVs. The use of dual communications systems on board a single ship points to a further benefit of Fleet Xpress, which can be configured as the primary or secondary system depending on the operator's needs and the project objectives.
In supplying the solution, Inmarsat collaborated with two of its partners, Marine Satellite Systems(MSS) and Direct Suppliers CC, to ensure that the system was installed and mission-ready ahead of Agulhas II's departure from Cape Town, South Africa on 5 February. MSS delivered the hardware, which comprised a compact, 60-cm antenna due to space limitations on board the vessel, while Direct Suppliers handled installation. Inmarsat also supplied a land terminal, the Cobham Explorer 5075 GX, in case the film crew had to disembark and venture onto the ice.