Issue
Ingeteam delivers converters for South Korea's first smart electric pa…
페이지 정보
작성자
최고관리자
댓글
0건
조회
162회
작성일

22-12-15 15:04
본문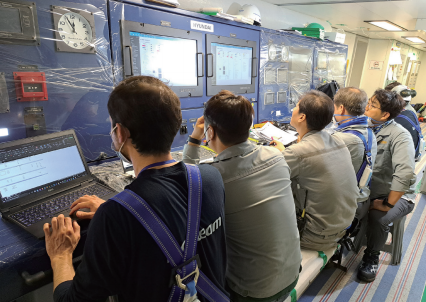 Ingeteam has recently completed the supply and commissioning of its equipment for a smart electric ship for the company Hyundai Global Service, a South Korean firm specialised in the provision of maritime services for shipbuilding. This ship is South Korea's first smart electric passenger ship. Ingeteam has been working on the project for the last year. Specifically, Ingeteam supplied and commissioned its converter Ingedrive LV400 DC Grid type, which enables a more efficient grid by reducing the number of power conversion stages and allows variable-speed generation of the gensets, thus operating at the most efficient point. As a result of this and Ingeteam's technology, the vessel can be considered a "green ship", increasing its added value.
With a capacity of up to 375 passsengers, the ship will shortly begin service. Specifically, it will sail the 'Whales Sea Travel Line' near Jangsaengpo, a port in the southern area of Ulsan, South Korea's seventh largest city with a population of 1.1 million.
With a length of 89.2 metres, a breadth of 12.8 metres, the ship will sail at a maximum speed of 16 knots. Its construction began last year at the Hyundai Mipo Dockyard in Ulsan, and it uses information and communication technologies making it a smart electric ship.
The equipment supplied by the company is fully redundant in case of failure of any of the converter outputs, and it is a DC grid and can therefore serve directly as the ship's power plant.